In the world of professional wrestling, there are few names as legendary and beloved as Macho Man Randy Savage (November 15, 1952 – May 20, 2011). With his flamboyant style, colorful attire, and signature "Oooh yeah!" catchphrase, Savage left an indelible mark on wrestling fans around the globe.
Throughout his illustrious career, Randy Savage achieved numerous milestones and accomplishments that solidified his status as one of the all-time greats. Let's take a closer look at some of his most significant achievements.
Championships and accomplishments
Macho Man Randy Savage's in-ring prowess and charisma made him a formidable competitor, leading him to claim several WWE Championships during his career.
Before ascending to the WWE Championship, Randy Savage made his mark as the Intercontinental Champion. He won his first Intercontinental Championship in a classic match against Tito Santana at WrestleMania II. Savage's reign as Intercontinental Champion was marked by numerous successful title defenses and legendary matches against some of the industry's finest competitors.
He won his first WWE Championship at WrestleMania IV in 1988 after a grueling one-night tournament. Savage's second WWE Championship victory came a year later when he defeated Ric Flair at WrestleMania VIII.
World Championship Wrestling

WCW World Heavyweight Championship (4 times)
World War 3 (1995)

World Wrestling Federation/WWE

WWF Intercontinental Championship (1 time)
WWF World Heavyweight Championship (2 times)
King of the Ring (1987)
WWF World Heavyweight Championship Tournament (1988)
WWE Hall of Fame (Class of 2015)
Got the "Macho Man" nickname from his Mom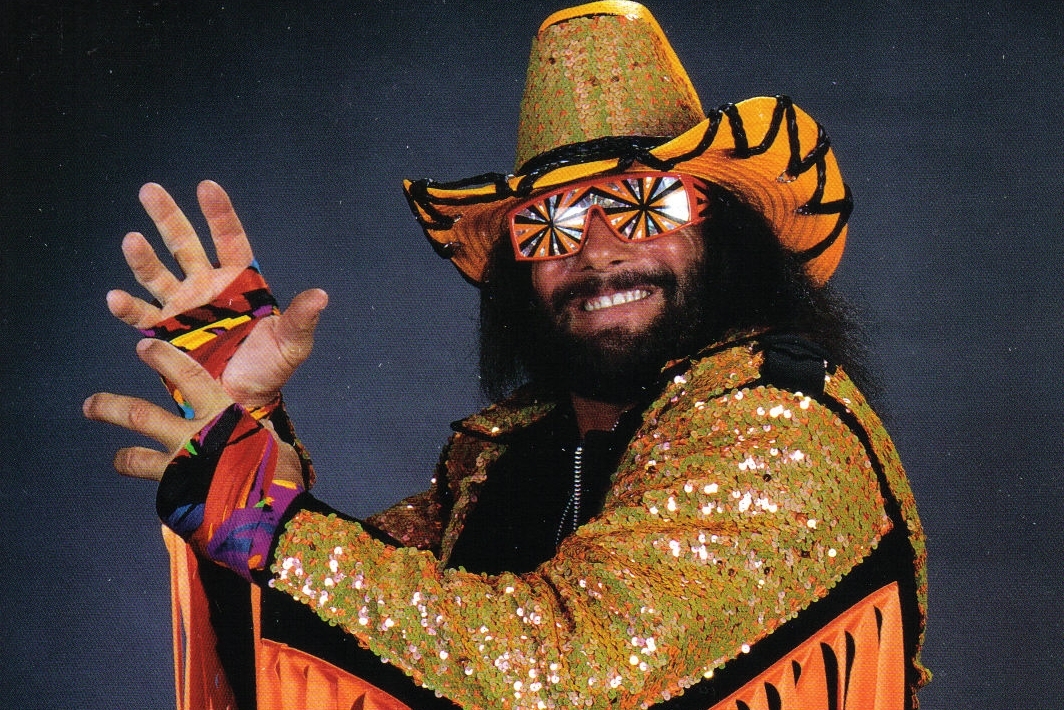 Randy Savage's wrestling moniker, according to him, did not originate from the Village People's song but had a rather interesting backstory. It all started when his mother, Judy, stumbled upon an article in Reader's Digest predicting that "macho man" would become a popular term in the future. She sent the article to Randy along with a list of other potential wrestling names. Though neither of them fully understood the meaning of a "macho man," Randy was drawn to its strong and catchy ring. And thus, the name Macho Man Randy Savage was born.
As for the second part of his stage name, "Savage," credit goes to Georgia promoter Ole Anderson. Anderson observed Randy's wrestling style, noting its ferocity and intensity. Recognizing the raw power and aggression that Randy brought to the ring, Anderson felt that the name "Savage" perfectly encapsulated his grappling persona. And so, Macho Man Randy Savage came to be.
Iconic Feuds and Matches
Throughout his career, Savage engaged in some of the most memorable rivalries and matches in wrestling history. Perhaps one of his most iconic feuds was with Hulk Hogan, culminating in a legendary clash at WrestleMania V for the WWE Championship. Savage's rivalry with Ricky "The Dragon" Steamboat produced one of the greatest matches of all time at WrestleMania III, where they put on a breathtaking display of athleticism and storytelling. These rivalries solidified his legacy as a master storyteller and a top-tier performer.
King of the Ring 1987
In 1987, Randy Savage participated in the King of the Ring tournament and emerged victorious. The event took place on September 4 from the Providence Civic Center in Providence, Rhode Island.
The tournament featured eight wrestlers vying for the crown. Randy Savage's had to beat "The Natural" Butch Reed in the quarterfinals, and then overcame King Kong Bundy, in the semifinals.
In the finals of the tournament, Macho Man Randy Savage defated "The King" Harley Race. Following his victory, Randy Savage was crowned as the King of the Ring. He adopted the King persona, donning a crown, robe, and scepter, and referred to himself as "Macho King."
The Mega Powers
Macho Man's partnership with Hulk Hogan turn them into a team called "The Mega Powers". The Mega Powers quickly became one of the most popular and dominant tag teams in the WWF. They feuded with various heel teams and wrestlers, including The Twin Towers (Akeem and The Big Boss Man) and "The Million Dollar Man" Ted DiBiase.
However, the dominance of The Mega Powers began to fall apart in early 1989 as tensions gradually mounted. The turning point occurred on January 7, 1989, during an episode of Saturday Night's Main Event. After Hulk Hogan's match with Akeem, he was beaten at the hands of The Twin Towers. In a dramatic twist, Randy Savage rushed to the ring with a steel chair to clear it and protect Hogan. Yet, this act set off a chain reaction that led to the eventual breakup of The Mega Powers.
The situation intensified when Elizabeth, who was accompanying Hogan, helped him backstage after the altercation, which deeply upset Savage. He felt like a third wheel and questioned why Hogan was relying on his wife as a manager. This marked the beginning of the end for The Mega Powers, as Savage's frustration grew over Hogan's close involvement with Elizabeth. The rift escalated during the Royal Rumble match when, accidentally, Hogan eliminated Savage while attempting to remove Bad News Brown from the ring. This added further fuel to the fire as the storyline reached its climax at WrestleMania V, where Hogan successfully defended his title against Savage.
Despite their dissolution, The Mega Powers remain one of the most memorable and iconic tag teams in wrestling history. Their captivating storyline and dynamic in-ring chemistry between Savage and Hogan made them an unforgettable duo that fans still remember fondly to this day.
World Championship Wrestling
Transitioning from a full-time wrestler, Macho Man Randy Savage found himself spending more time at ringside as a wrestling commentator in the early 1990s.
Not willing to step back just yet and get back into the ring, Randy made a significant move to World Championship Wrestling (WCW) in late 1993. There, he secured his first WCW championship by winning the inaugural 60-man, three-ring battle royal in 1995.
As the years went by, Savage realized that his in-ring career was drawing to a close. After his final WCW match in 2000, he shifted his focus towards other ventures beyond the wrestling ring. Despite leaving the active wrestling scene, the legacy of Macho Man Randy Savage as one of the most dynamic and beloved figures in sports entertainment continued to live on.
The Madness Joins the NWO
On December 29, 1996, "Macho Man" Randy Savage made the decision to join the New World Order (NWO). This took fans by surprise, as Savage had a long history of bitter feuds with the NWO.
Embracing his role within the NWO, Savage underwent a transformation, adopting a more aggressive and unpredictable persona, which perfectly complemented the NWO's anti-establishment image.
During his tenure with the NWO, Savage engaged in several noteworthy feuds and unforgettable matches. His legendary rivalry with Diamond Dallas Page (DDP) culminated at Spring Stampede 1997. In this epic match, Savage executed his signature move, the flying elbow drop, from atop a steel cage. Additionally, Savage engaged in other feuds with WCW stars such as Lex Luger, Sting, and Ric Flair.
Savage remained a prominent member of the faction until its eventual fragmentation into multiple subgroups in 1998. Following the NWO's disbandment, Savage continued to thrive in WCW, engaging in compelling feuds with various wrestlers and capturing multiple championship titles.
Death and Legacy
Macho Man Randy Savage, whose real name was Randall Mario Poffo, tragically passed away on May 20, 2011. He was involved in a fatal car accident in Florida and was only 58 years old.
Randy was driving with his wife when he suffered a heart attack behind the wheel. This caused him to lose control of the vehicle, which subsequently crashing the car into a tree.
Emergency responders arrived at the scene and rushed both of them to a local Medical Center. Unfortunately, Randy Savage was pronounced dead shortly after arrival. His wife, Barbara, sustained significant injuries but survived the accident.
The news of Macho Man Randy Savage's death sent shockwaves through the wrestling community and beyond. WWE paid tribute to him with various video packages and memorial segments on their television programs. Randy was then posthumously inducted into the WWE Hall of Fame on April 2, 2015, during WrestleMania 31 weekend in California. It was a fitting tribute to a true wrestling legend whose contributions continue to resonate, and whose memory remains cherished in the hearts of those who loved and admired him.